Can Health Impact Assessment Influence Policies Relating to Green Spaces in Urban Areas?
L'évaluation d'impact sur la santé peut-elle influencer les politiques d'espaces verts dans l'espace urbain ?
Growing urbanisation in the last decades and the increase in population density have significantly contribu-ted to lessening contacts between people and nature. In response to this phenomenon, the consideration given to the role played by nature in urban environments has increased uninterruptedly, supported by the social demand for a greener urban environment. Health impact assessment is an approach aimed at antici-pating the consequences of policies, projects or laws on health, prior to their implementation, and offering suggestions for readjustments that limit negative impacts and reinforce positive ones. It has been developing in France since 2010 mostly in connection with urban planning projects in which green space development is an important feature. This article examines HIA's capacity to influence urban planning choices and policies to make them greener, fairer and more beneficial to health.
L'urbanisation croissante de ces dernières décennies et l'augmentation de la densité populationnelle ont fortement contribué à diminuer les contacts des populations avec la nature. En réaction à ce phénomène, la considération accordée à la place de la nature dans l'espace urbain n'a cessé de croître, confortée par une demande sociale d'un environnement urbain plus vert. L'évaluation d'impact sur la santé est une démarche qui a pour but d'anticiper les conséquences sur la santé de politiques, projets, ou lois, avant leur mise en œuvre et de suggérer des réajustements afin de limiter les impacts négatifs et renforcer les impacts positifs. Elle se développe en France depuis 2010 et concerne majoritairement les projets d'aménagements urbains au sein desquels la restructuration des espaces verts constitue un enjeu important. Cet article interroge la capa-cité de l'EIS à influencer les choix d'aménagement urbain et faire des politiques plus vertes, plus équitables et plus favorables à la santé.
Fichier principal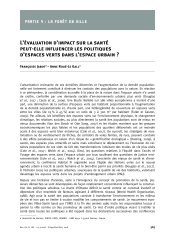 RFF_2018_70_2-3-4_365_Jabot.pdf;jsessionid=C4019D1B325CBA7FD8897F497047AA87.pdf (246.66 Ko)
Télécharger le fichier
Origin : Publisher files allowed on an open archive