Urban social-Tteritorial processus determinant for pregnant omen having given birth prematurely
Processus socio-territoriaux urbains à l'oeuvre dans les trajectoires des femmes enceintes ayant accouché prématurément
Epidemiological Context:
Huge disparities, related to health outcomes, prognoses, and care given by health professionals, exist not only between high- and low-income countries, but also among high-income countries themselves, for babies born prematurely (Torchin, 2015). The risk factors associated with spontaneous preterm birth are numerous and interrelated. Instability and poverty are also clearly linked to minimal (or no) prenatal care, responsible for an increase in frequency of perinatal pathologies and in particular, prematurity (Lejeune, 2008). Consequently, it is the ensemble of the various social determinants of health that we have to take in count. For more than 15 years, researchers have shown that the social determinants of health can provoke pathogenic effects (McEwen, 1998). Disadvantaged socioeconomic situations bring about stress, increasing the risk of premature birth (Kramer, 2001; Roy-Matton, 2011 ; McDonald 2014).
Scientific Position:
However, the interactions between different social determinants of health are not identical in all places. This is the reason why the examination of socio-political and territorial factors informs us of the complexity of significant instability for women and in particular, of the differentiated levels of social and medical care for pregnant women, depending on location. Subsequently, the contextual mechanisms, both short-term and structural, that are at work in these interactions, can be observed by examining the trajectories of women's lives. This approach is employed in research projects, related to access to care and care pathways for pregnant women who have given birth prematurely. It aims to highlight the spatial and social dimensions of women's care trajectories. There is a real theoretical and methodological challenge to clarify the use of healthcare in light of spatial contexts (Gasquet-Blanchard & Hoyez, 2015). In the framework of our reflections, it questions how the context contributes to explaining health status and modalities of access to care for women during pregnancy.
Framework:
To do this, we propose an analysis of the care pathways of pregnant women who delivered prematurely. This analysis involves a socio-historical and institutional contextualization of the urban environments in which these women reside.
Theoretical Position:
Thus, we integrated the notion of "care trajectory" as it is theorized by A. Strauss (Strauss, 1978; Strauss and Baszanger, 1992). This concept, related to the process of care or an event such as pregnancy, places the context at the heart of the research. It allows us to discuss how the perinatal medical process triggers specific actions in caregivers and in those close to the patients; in particular, it illustrates the transition from « routine trajectories » to « problematic trajectories ». This framework thus associates the spatial, time-related, and social dimensions which allows us to take into consideration the links between stakeholders and also between stakeholders and institutions according to the different temporalities and spatialities at the center of different social worlds.
Methodology:
The methodology employed in this research is based on an ethnographical study, conducted between 2012 and 2015 in large French cities. 120 interviews with women who gave birth to a premature newborn were conducted in 8 hospitals, in the postpartum and neonatology units. The basis of these interviews was to ascertain information related to the modalities, strategies, practices, and contexts of the prenatal care pathways of women. All interviews were classified and transcribed. The analysis of the content of these interviews was conducted by theme, to describe the process of the use of healthcare and the modes of individual organization that determine the trajectories of these women.
Results:
We are focusing on the trajectories of women in precarious and/or unstable residential situations who we came across, although there were many women who we met who were in favorable social and economic situations. Entrance into a state of precariousness makes it possible to highlight in an acute way the dysfunctions at work within the studied territories.
Discussion & Perspectives:
The results presented in the whole article here show that the practices and spatial logic associated with the prenatal care for these women are largely dependent on their social capital and their relationships with the healthcare systems. Here, we also wanted to not only highlight the dominating role of socio-historical contexts of urban territories but also the ways in which daily territories where we conducted the interviews contributed to the reproduction of the specific profiles of the observed trajectories.
Nous proposons ici une analyse des trajectoires de soins de femmes enceintes qui ont accouché prématurément. Cette analyse passe par une contextualisation des territoires urbains au sein desquels ces femmes évoluent. La méthodologie de cette recherche se base sur une étude de type ethnographique, menée en 2012-2015 dans quatre grandes villes françaises. Une dizaine d'entretiens auprès de soignants et environ 120 entretiens, auprès de femmes ayant accouché récemment d'un enfant prématuré ou avec un petit poids de naissance, ont été menés dans 8 hôpitaux. Les résultats de cette étude montrent que les trajectoires de soins durant la grossesse de ces femmes sont largement dépendantes de leur capital social et de leurs rapports avec les systèmes de santé. Nous mettons également en lumière le rôle prépondérant des contextes sociaux et historiques des territoires urbains dans la production des déterminants de santé qui participent, selon les lieux, à des situations défavorables autour de la grossesse et dont les profils observés.
Fichier principal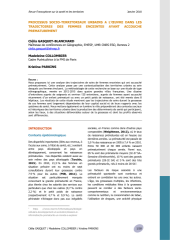 RFST_Gasquet_Parkins_Collombier_2018.pdf (696.84 Ko)
Télécharger le fichier
Origin : Publisher files allowed on an open archive