[Could an influenza pandemic like the one in 1918-1920 happen today?]
Une pandémie grippale identique à celle de 1918-1920 est-elle concevable dans les années 2000?
The scale of the international preparation to cope with a possible influenza pandemic in the years to come is due in part to memories of the great pandemic of 1918. The objective of this study was to model the development of an epidemic with a virus similar to the current highly pathogenic avian influenza virus (H5N1) and show possible epidemiologic differences according to the context then and now. Should an epidemic occur, it will probably be recognized before a pandemic is unleashed. Data used for this study indicate that we should expect on the order of 4,000 cases at the beginning of the epidemic, with 1,000 deaths in less than three weeks. The established international surveillance system should be able to detect and react to these numbers. According to current scientific data, therefore, a major influenza pandemic appears rather improbable, unless it begins in a situation where a deterioration in health and health care has already made case reporting more difficult. Our model shows that the age groups most strongly affected may be those aged 10-50 years, mainly people in the labor market and more women than men. If these hypotheses are correct, they indicate flaws in some aspects of current pandemic preparedness planning.
L'ampleur de la préparation mondiale pour faire face à une éventuelle pandémie grippale dans les années à venir est pour partie due au souvenir de la grande pandémie de 1918. L'objectif de la présente étude est de modéliser le départ d'une épidémie avec un virus proche du VIA HP (H5N1) actuel, et de mettre en évidence d'éventuelles différences épidémiologiques, selon les contextes – passé et actuel. Il apparaît que si une épidémie se déclarait, elle serait probablement reconnue avant de déclencher une pandémie. Sur la base des données proposées dans la littérature, le nombre de cas attendus sur le début d'épidémie serait de l'ordre de 4 000, dont 1 000 décès en moins de 3 semaines. Cela paraît détectable par le système international de surveillance mis en place et sa réactivité. En l'état actuel des connaissances, une pandémie grippale majeure semble donc assez faiblement probable, sauf si son départ devait avoir lieu dans des contextes de situations sanitaires déjà dégradées, rendant plus difficile la notification des cas. Si cela devait se produire, les tranches d'âge les plus touchées pourraient être celles d'un deuxième âge élargi (10 à 50 ans), correspondant largement aux actifs, et plutôt les femmes que les hommes. Si ces hypothèses se révélaient exactes, elles pourraient compliquer certains aspects des plans de préparation à cette pandémie.
Fichier principal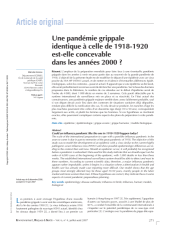 ers-274817-7724.pdf (148.2 Ko)
Télécharger le fichier
Origin : Publisher files allowed on an open archive