[What are we beginning to learn from the COVID-19 pandemic experience in supporting chronic patients?]
Quels enseignements tirer de l'expérience de la pandémie de la COVID-19 dans l'accompagnement des patients chroniques ?
From an ethical, sanitary, social and political perspective, the first months of the COVID-19 pandemic were – and still are – a destabilizing experience. This was particularly so for people living with one or more chronic diseases whose quality of life, and sometimes survival, depends on a large number of decisions and actions in which they rarely participate. Such healthcare practices and situations are not new, but this epidemic period has brought them to the fore. In general, among the difficulties encountered during the first months of the COVID-19 pandemic, the most fundamental were the difficulty of supporting and developing the autonomy of people and of integrating the patient experience to think, perform and organize healthcare and health services. Without practices of continuous adjustment of the health system to the concerns, expectations and needs of the actors of health, without having as a horizon the development of people's power to act, the health system found itself to concentrate the essential of its resources on a limited type of users and acts. However, even in this context, alternatives to healthcare and health services have emerged, in particular through the actions of patient associations. It is essential that we learn from these first months to refocus health decisions on participatory actions that are anchored in the individual and collective experiences of the actors of health. © 2020 Elsevier Masson SAS
Du point de vue éthique, sanitaire, social et politique, les premiers mois de l'épidémie (pandémie) à coronavirus 2019 (COVID-19) ont été – et restent – une expérience déstabilisante. Cela le fut en particulier pour les personnes vivant avec une ou plusieurs maladies chroniques, dont la qualité de vie, et parfois la survie, dépend d'un grand nombre de décisions et de coopérations auxquelles elles ne participent que rarement. De telles pratiques de soins et de telles situations ne sont pas nouvelles, mais cette période épidémique les a davantage mis en lumière. Parmi les difficultés rencontrées au cours des premiers mois de la pandémie de la COVID-19, les plus fondamentales furent la difficulté de soutenir et de développer l'autonomie des personnes et d'intégrer « l'expérience patient » pour penser, effectuer et organiser les soins et les services de santé. Sans pratiques d'ajustement continu du système de santé aux préoccupations, attentes et besoins des acteurs de la santé, sans avoir pour horizon le développement des pouvoirs d'agir des personnes, le système de santé s'est retrouvé à concentrer l'essentiel de ses ressources sur des types limités d'actes et d'usagers. Pourtant, même dans ce contexte, des alternatives de soins et de services de santé ont pu émerger, en particulier à travers les actions des associations de malades. Apprendre de ces premiers mois invite à recentrer les décisions en santé sur des modalités participatives qui soient ancrées dans les expériences individuelles et collectives des acteurs.
Fichier principal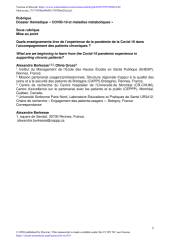 S1957255720301140.pdf (676.76 Ko)
Télécharger le fichier
Origin : Files produced by the author(s)